Beautiful photographs and Finnish magazine
We received some beautiful photographs form customer in Finland.
And our product was introduced by a Finnish magazine.
Many thanks.
Our customer and distributor in Finland
Floranna Oy
Instagram: https://www.instagram.com/flowerstore_floranna/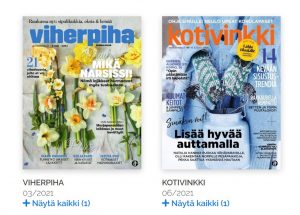 Related posts
We will announce the sale of limited product. That is FLOWER SHEARS TYPE F170 with Black Blade. We will sale limited product on Nov 2020. Handle color :Red,Violet, Orange,Purple. Only 4 color. That product is limited to 1,200PCS. Retail price : JPY3,300 Many Thanks.
We supplied to logo printed scissors to our customer in USA. Scissors for Artificial Flower. Our customer is a special store of Artificial Flowers & Plants. Our customer is stocked with  Artificial Flowers & Plants, Dry Flowers and Flower Vase. The flowers they chose are very stylish. It's used for Interior decoration and Wedding. Many thanks. Aflral.com Website https://www.afloral.com/ Instagram https://www.instagram.com/afloral/
We made special scissors for SATOMI SUZUKI TOKYO. Blade is gray color. Gray color blade is only for SATOMI SUZUKI TOKYO. Scissors information URL: https://www.satomi-suzuki-tokyo.com/product/sakagen/ Sales URL: https://www.satomi-suzuki-tokyo.com/onlone-store/sakagen/ SATOMI SUZUKI TOKYO Co.,Ltd. SHU SHU  Contemporary Japanese Design May thanks. ********************************************************************************* SATOMI SUZUKI TOKYO Co.,Ltd. now offer their special "SHUSHU model" pieces in minimalist design, treated with grey florist to enhance dirt-proofness. SATOMI SUZUKI TOKYO Co.,Ltd. They develop and produce contemporary Japanese lifestyle and design goods in cooperation with Japanese craftsmen. URL: https://www.satomi-suzuki-tokyo.com/ SHU SHU  Contemporary Japanese Design SHU SHU is an online store which offers Japanese design products in Germany. Using German lifestyles and perspectives, we work with Japanese manufacturing companies to produce MADE IN JAPAN products which are loved around the world. URL:https://www.satomi-suzuki-tokyo.com/english/